on Tue Jun 25, 2013 2:30 pm
Description
"The thief that cuts through the darkness."
Main Info
Name: Lass Isolet
Age: Unknown
Favorite Activity: Unknown.
Pet Peeve: His past.
Lass' mind and body was freed from Kaze'aze's possession after the Grand Chase vanquished Kaze'aze's evil from the world. Although he wasn't in control of his actions, Lass still felt guilty when he realized that his body was used as Kaze'aze's vessel to devastate the continent and kill countless innocents. The members of the Grand Chase understood that Lass was determined to right his wrongs, allowed him to join them on their journey to restore peace to the continent.
Unlocking
Lass can be unlocked by purchasing a Mission scroll from the shop and completing its objective.
Boss
Lass is the first boss in one of a two-part boss battle in Kaze'aze's Castle. The Lass in Kaze'aze's Castle has attacks that are very similar to the Thief class. The match can be seen, in a way, as a PvP match; however, Final Strike cannot kill as it passes through the floors without heavy explosions, he doesn't possess Fatal Tempest Fury nor a Skill Tree, and neither players nor the Kaze'aze-possessed Lass can grab one another.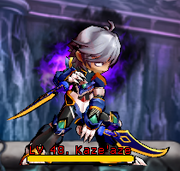 on Tue Jun 25, 2013 11:11 pm
on Wed Jun 26, 2013 6:18 pm


Permissions in this forum:
You
cannot
reply to topics in this forum